Animated Search Engine
Giphy is the best way to search, share, and discover GIFs on the Internet. Similar to the way other search engines work, the majority of our content comes from indexing based on the best and most popular GIFs and search terms across the web. We organize all those GIFs so you can find the good content easier and share it out through your social channels. We also feature some of our favorite GIF artists and work with brands to create and promote their original GIF content.
HOW DO I UPLOAD/SUBMIT A GIF OR MOVIE TO GIPHY?
Visit giphy.com/upload. We accept both .gif files and movie files, and offer the best selection of sharing options once your GIF is hosted on Giphy. To learn more about uploads visit giphy.com/posts/how-to-upload-gifs-to-giphy
WHY SHOULD I CREATE AN ACCOUNT?
Giphy accounts are free and let you save all of your uploaded and favorited GIFs to one easy-to-find place. Giphy GIFs also play on Facebook and Twitter. We can even get them onto Instagram! To create an account, visit giphy.com/join. (If you're a brand and would like to create an official brand account i.e. giphy.com/gameofthrones, please visit giphy.com/partners to get in touch).
HOW CAN I DELETE OR EDIT MY GIF AFTER I UPLOAD IT?
You can delete a GIF or update its tags and source URL if you were logged in when you uploaded it. To edit your GIF, click in the top right corner of your GIF. Then add tags, source URL, or delete the GIF. Note: you can only edit GIFs that you have uploaded to Giphy.
Unless you're an official Giphy partner or artist, all GIFs uploaded are private, whether you upload the GIF while logged in or anonymously. All uploaded GIFs stay private until the user who uploaded chooses to share the link to the GIF.
IS THERE A MAXIMUM FILE SIZE I CAN UPLOAD?
Our file size limit is 100MB and the GIF or movie files can be no longer than 15 seconds.
WHAT FILE TYPES CAN BE UPLOADED TO GIPHY?
Giphy accepts .gif (say what!?), mp4, mov, mpg, and m4v file formats
You can't upload anything that violates our Terms of Service
There is a GIF on your site with the wrong source URL! Can you change it to the correct source?
Yes! Proper attribution is incredibly important to Giphy. We want every GIF on our site to link back to its original creator. If you spot a source URL that is incorrect, please email editor@giphy.com with the Giphy URL and the link to the correct original source URL.
There is an incorrectly tagged GIF on your site — how can I correct it?
Having correct tags on our GIFs is essential for our user experience. If you see something is wrong, we want to know! Email editor@giphy.com with the GIF URL and any corrections needed.
How do I share a GIF on Twitter?
For a GIF to play inline on Twitter, you need to use Giphy's hyperlink found on the selected GIF's permalink page. Place the link at the end of your tweet as the last links in the tweet are previewed. The GIF will animate inline on Twitter!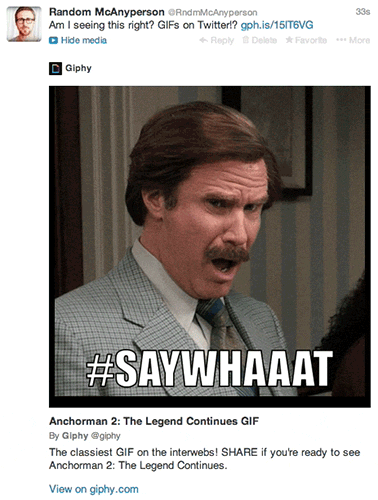 How do I share a GIF on Facebook?
For a GIF to play in the NewsFeed or on your profile, you need to use Giphy's hyperlink found on the selected GIF's permalink page. The link must be the first link in the post. Once the GIF is previewed in the post, its url can be removed!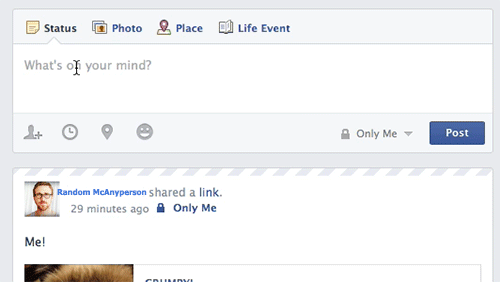 How do I become a Giphy featured artist?
We're always on the lookout for new GIF artists to showcase. If you would like to be considered for inclusion in our featured artist directory, shoot us a link to your blog/portfolio/website to artists@giphy.com.
How do I get my brand/company on Giphy?
We love working with brands to help power their GIFs. Visit giphy.com/partners to see some of the work we've done and learn more about what a partnership with Giphy entails.
Does Giphy have an API? Can I use it on my site/app/project?
Yes we do! The Giphy API is open to the public and allows any developers to insert animated GIF content into their applications with ease. Check out the documentation and get info on how to access the API here: https://github.com/giphy/GiphyAPI.